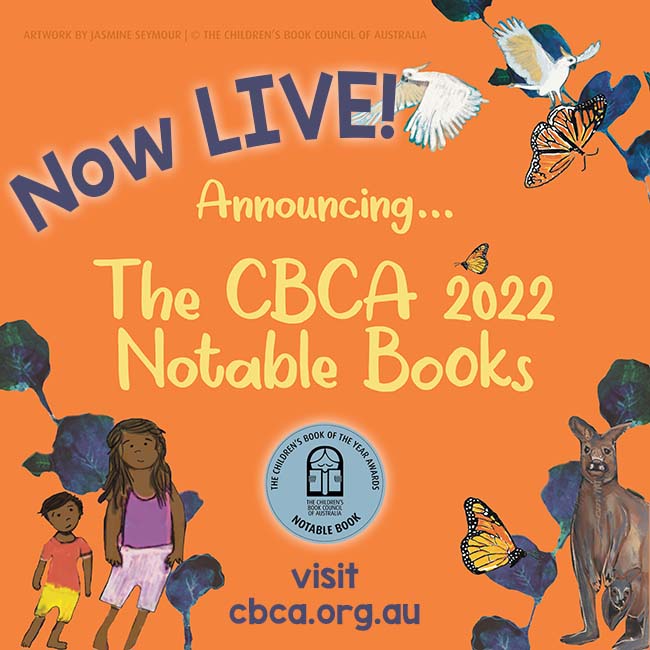 Children's Book Council of Australia Book of the Year 2022 Notables List announced
Where can you find cranky chickens, thoughtful coming-of-age stories and thrilling tales of Australia's first scientists?
On the 116-strong Notables List for the Children's Book Council of Australia (CBCA) Book of the Year Awards, announced today (February 22, 2022).
CBCA National Chair Wendy Rapee said it was a "watershed year" with entries topping the 600 mark for the first time, and a longlist that "represents the exciting and wide-ranging landscape of Australian children's literature as it stands today".
"Hundreds of thousands of authors and illustrators, librarians, publishers, and book lovers of all ages wait in eager anticipation for the CBCA Book of the Year Awards Notables List, and they will not be disappointed," Ms Rapee said.
"Our professional and passionate judges have recognised a diverse range of genres, a huge cast of engaging and authentic characters, and exciting places that readers will want to inhabit."
Well-known names including Sally Morgan, Emily Rodda and Graeme Base are joined by debut authors including six new Indigenous creators on a particularly strong Eve Pownall Notables List. High quality production values, great research and inventive storytelling made it a brilliant year for these information books.
"A huge number of entries for the Picture Books category show that our skilled, innovative book creators have been hard at work over the last 12 months despite – or maybe because of – Covid-19.
"Our judges were very happy to see so many characters who championed problem-solving and self-acceptance. The children in these books may be different from others, but they find a way to express their feelings and gradually learn it's okay to be different."
The Older Readers Notable books explore body image, sexuality, grief and love in a range of life situations, while the Younger Readers Notables reinforce resilience and the importance of the environment and families, in formats that include time slip and verse.
The Early Childhood Notables reflect children's connection with animals through engaging and playful stories about pets and Australian wildlife, also featuring diverse families and the regulation of emotions.
The CBCA is a not-for-profit, volunteer-run organisation which aims to engage the community with literature for young Australians.
Regarded as Australia's premier children's literature award, the CBCA Book of the Year was established in 1946 and is now presented in six categories: Older Readers, Younger Readers, Early Childhood, Picture Book, Eve Pownall Award and the CBCA Award for New Illustrator.
For the full list of CBCA Book of the Year 2022 Notables visit the cbca dot org dot au notables 2022 web page.
* * * * *
View all news items